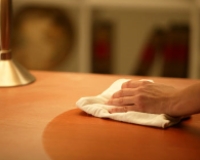 Let's say you're about to move out very soon and you want your deposit money back. You either engage in cleaning the whole property on your own, or you can contact us and ask for the end of tenancy cleaning that we offer. We can't just say we're good and tell you to call us, so we'll tell you some inside information. First of all, we are more than experienced in the cleaning area. The end of tenancy cleaning is one of our top services in the whole area of Shepherds Bush.

End of Tenancy Cleaning in Shepherds Bush
Prices
Studio flat

£

99

One Bedroom Property

£

159

Two Bedroom Property

£

189

Three Bedroom Property

£

220
We do know the best cleaning tricks and secrets, which help our experienced and knowledgeable cleaners exceed even the highest expectations! With the help of professional tools, specialised machinery and toxins-free cleaning products, we will make sure dust, dirt, grime and every little microbe is gone from your rented probably for good! We will make sure the place is perfectly clean to help you receive the full refund of your deposit money back and to top all that, we guarantee for the service for 48 hours after its delivery!
Apart from the juicy details, we are available every day of the week for every resident of Shepherds Bush! Our prices are more than tempting! Choose us and we will definitely gain your trust!
As the perfect choice in end of tenancy cleaning, we are well aware of how stressful, hectic and tiresome moving out or shifting residences might be. It entails a lot, apart of the time and energy spent in collection and packing of belongings, you are also required to leave the place you are moving out from, as clean as you found it.
In order to relieve you of all this stressful activities, Cleaners Shepherds Bush is offering the most appropriate and efficient End Of Tenancy Cleaning Service.
We have properly trained cleaning experts who have been working in this field for many years. They understand the requirements of every landlord or residential house letting agency when it comes to the end of tenancy cleaning and will carry out the cleaning perfectly. Our cleaners are also fully insured and in case of damage caused by them during the cleaning, we will take the responsibility and will instantly give you a replacement of the broken item.
If you are in a situation of moving out, you perfectly know how much things you need to do. We don't want to upset you, on the contrary, we want to offer our professional help, which will make your moving out a lot easier than you think! If your rented property is anywhere in Shepherds Bush, you are absolutely welcome to contact us and ask for an end of tenancy cleaning service!
This offer of ours is more than tempting, because we have the hottest prices and we deliver the highest quality of the service! We've cleaned hundreds of buildings and properties in Shepherds Bush and a lot of our customers call for a service of ours regularly. We are very attentive in our job and with the help of chemicals-free cleaning solutions and up-to-date equipment we are able to achieve sparkling surfaces without damaging their condition!
We are available seven days a week with the one purpose – to help as much people as we can! The best part of our end of tenancy cleaning is that we will definitely get the full refund of your deposit money! Get in touch with us to book the service and be more than impressed with the results!
Get your FREE QUOTE now or call us at 020 3745 5708!

Our cleaners come fully equipped with all the necessary cleaning products and equipment so that you do not have to move around looking for anything to be used during the cleaning process. We use the best products, which will leave the house sparkling clean, all you need to do is give us any other instructions and we will get it done for you.
Below are some of the areas that we focus on in our End Of Tenancy Cleaning:
*Cleaning all the household furniture including cupboards, wardrobes and counters
*Cleaning kitchen appliances
*Mopping and vacuuming of all floors including dusting and polishing of all surfaces
*Cleaning of all air conditioners, radiators, wall hangings, ceilings and extractor fans
*Cleaning of all windows and windowsills
*Wiping of all skirting boards, switches and sockets
At Cleaners Shepherds Bush, we ensure that we do the cleaning that will be far beyond your expectations at affordable rates. In case you are in need of the services, we are available any time that will be convenient with you and you are always free to contact us. Payment is only after the work is done.
Reviews of Our Customers from Shepherds Bush
Mathew, Arlos
I used this cleaning agency a month ago when was supposed to move out of my rented two bedroom flat in Shepherds Bush to another place in Greenwich. The company sent a team of three cleaners who managed to clean the entire property in two hours. I was told that the cleaning service was rended according to the requirements of the property agency.
Services We Offer in London
Spring Cleaning Shepherds Bush
Oven Cleaning Shepherds Bush
Office Cleaning Shepherds Bush
Mattress Cleaning Shepherds Bush
Hard Floor Cleaning Shepherds Bush
One Off Cleaning Shepherds Bush
After Builders Cleaning Shepherds Bush
Deep Cleaning Shepherds Bush
Upholstery Cleaning Shepherds Bush
House Cleaning Shepherds Bush
Domestic Cleaning Shepherds Bush
Carpet Cleaning Shepherds Bush
Katie, Williams
I had the pleasure of using Cleamers Shepherds Bush for my own home property refurbishment , and was so pleased with their level of service that i have recommended them to all my friends and family. They were clean,tidy,punctual and produced work of a consistently high quality. I cannot recommend them highly enough.